https://zycrypto.com/wp-content/uploads/2020/05/Bitcoins-Massive-Accumulation-Phase-Shows-Where-Price-is-Headed.jpg

Advertisement

&nbsp

&nbsp
Key Takeaways
Bitcoin accumulation addresses have reached a new all-time high.
The highly bullish metric is coming on the back of increased on-chain activity.
The price of Bitcoin has been staging an impressive upsurge amid geopolitical risks.
On-chain data continues to point towards the long-term bullishness of Bitcoin investors. One such indicator, Bitcoin accumulation addresses, has continued to rise phenomenally in the last few days and is currently at an all-time high.
Bitcoin accumulation addresses going parabolic
Per data from on-chain analytics platform, Glassnode, the number of Bitcoin accumulation addresses is sitting at just under 570,000. This surpasses the previous all-time high of around 550,000 addresses the metric set in January.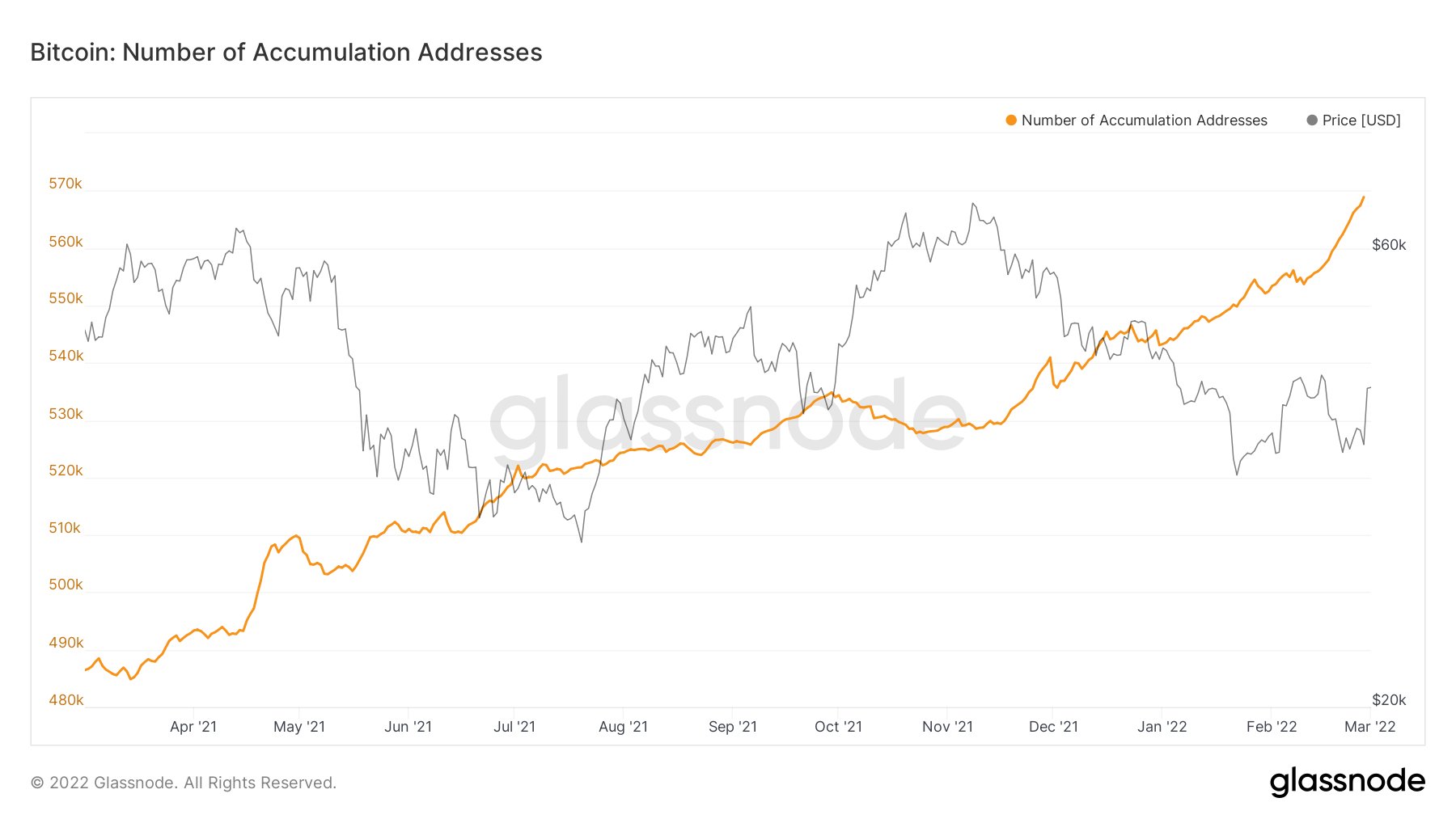 Glassnode defines this category of addresses as Bitcoin wallets that have at least 2 incoming non-dust transfers but have never spent funds. The increase in the Bitcoin wallets that have entered this category indicates massive long-term HODLing sentiment.
The increase is highly bullish for the market. It points to the fact that fewer coins will be involved in short-term market sell-offs, leading to lesser volatility in the price of Bitcoin.
Advertisement

&nbsp

&nbsp
The increase in accumulation addresses is coming on the back of ever-increasing on-chain activity even as Bitcoin becomes one of the few ways for citizens of war-torn Ukraine to transact. Amidst an invasion from Russia, Bitcoin and other cryptocurrencies have brought succor to Ukrainians even as their government's martial law has limited usage of traditional payment platforms.
An offshoot of the increased adoption of Bitcoin has been the swelling of wallets holding different amounts of Bitcoin. Glassnode recently highlighted that the number of addresses holding over 0.1 BTC just reached an all-time high of over 3.3 million. 
Other categories of Bitcoin holders have also been increasing. One of these categories, addresses with balances greater than 1000 BTC has also seen a sharp increase in the last few days.
Bitcoin price continues to rebound
Following the onset of war between Russia and Ukraine last week, the crypto market plunged along with other risk assets. Bitcoin reached a low of $34,500 last week.
However, the benchmark crypto has been staging an impressive recovery. Bitcoin is up 23.93% in the last 7 days, trading at around $44,600 at the time of writing.
Debates as to what has been driving the surge are still ongoing, with some analysts pointing to Russia. The founder of Mobius Capital Partners LLP, Mark Mobius, told CNBC that in his opinion, Bitcoin has been rising because Russians have been using it to evade sanctions.
"I would say that's the reason why bitcoin has shown strength now — because the Russians have a way of getting money out, getting their wealth out," Mobius said.
However, others have said the surge is due to the pioneer cryptocurrency finally proving to the world that it has been accurately called "digital gold."