https://coinstats.app/blog/wp-content/uploads/2022/03/Juno_og.png

Juno describes itself as an interoperable Smart Contract network built on the Cosmos SDK (software development kit). The Juno network was designed to take away the computation burden of smart contracts from the Cosmos Hub and serve as a permissionless network for cross-chain smart contracts. Created with the vision to establish a sister-hub for the Cosmos network, JUNO currently functions as a sovereign public blockchain within the Cosmos ecosystem.
47% of Juno's genesis supply was airdropped to Cosmos' ATOM stakers on a 1:1 basis to everyone during a February 2021 snapshot.
The high-scalability, low-cost, and native interoperability features have been responsible for the swift rise in demand and utility of $Juno, the native token of the Juno network.
Read on for this brief guide about the Juno network and its native token and learn how to buy JUNO in a few simple steps.
Now, let's jump right in!
What Is the Juno Network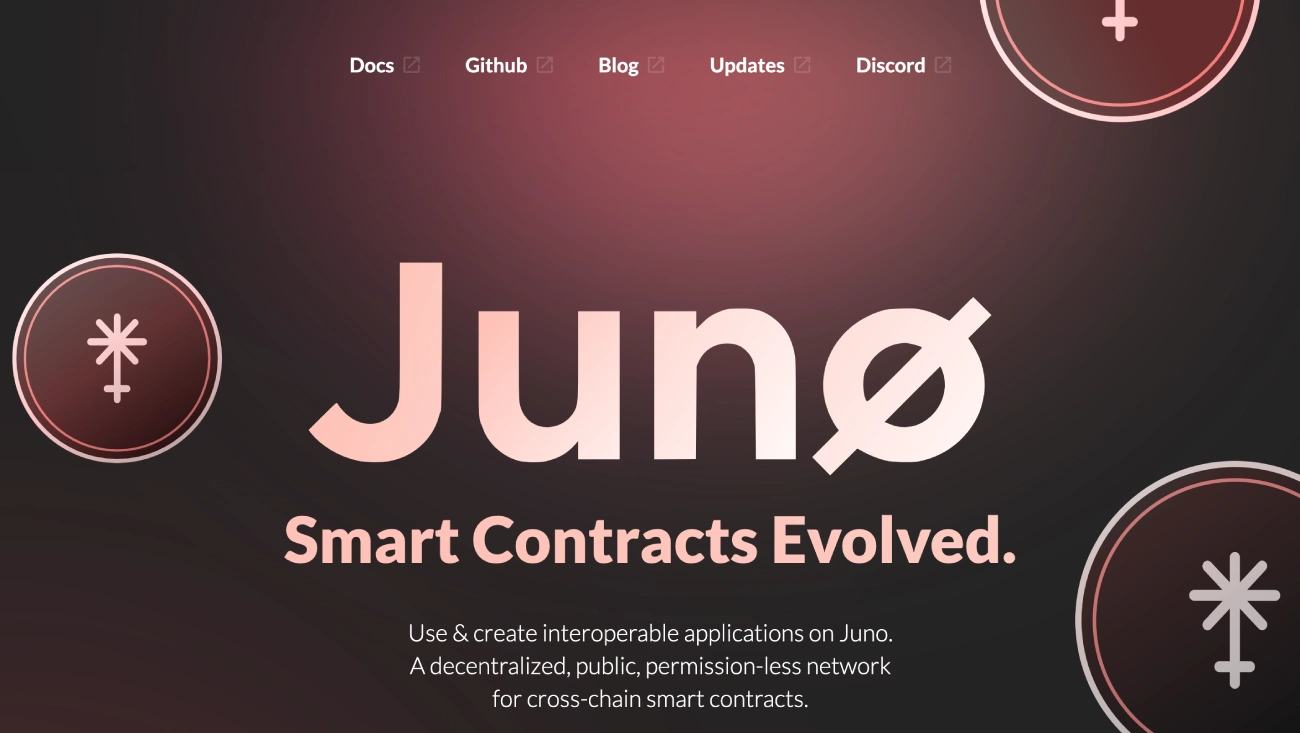 The Juno network portrays itself as a permissionless, layer-1 Smart Contract network that runs as a Hub within the Cosmos ecosystem and provides an environment for deploying interoperable smart contracts. The decentralized and permissionless network lets developers efficiently and securely launch smart contracts using proven frameworks and compile them in various languages Rust & Go (among the youngest open-source programming languages).
Juno utilizes IBC (Inter-Blockchain Communication), a communicative protocol for one blockchain to communicate with another. This IBC integration enables Juno to transfer data packets across other independent networks supporting IBC, thereby enabling cross-network smart contracts. Briefly, Juno aims to offload the computational burden of smart contracts from the Cosmos ecosystem and let it focus on its core functions like security.
How Did Juno Originate
Juno is the brainchild of a community-driven initiative evoked by developers, validators & delegators of the Cosmos ecosystem with a shared vision to safeguard the neutrality, reliability, and performance of the Cosmos Hub. The project aimed to offload interoperable smart contract deployment to an exclusive sister hub.
Juno launched by distributing tokens to staked $ATOM holders. 47.24% of the supply went to ~50,000 addresses, 30.82% is on the community pool, 15.54% is reserved for development spending, 3.6% will be dedicated to incentivized events (JunoHacks), and only 2.7% of the initial supply is held by the team, vested and released gradually and proportionally over 12 years.
How Does the Juno Network Work
Juno offers high scalability and low costs. The Juno network was designed to automatically execute, govern, or document relevant activities and actions according to the terms of such contracts and agreements to be valid and operative across various sovereign networks. Additionally, the network serves as a decentralized and censorship-resistant space for developers to launch application-specific smart contracts in Rust or Go, with a potential addition of C and C++ in the future. These contracts are then compiled to CosmWASM, enabling WebAssembly virtual machines in the Cosmos SDK. WebAssembly allows software written in different languages to run securely on the blockchain.
The Cosmos SDK Framework streamlines the process of developing secured decentralized applications (DApps) on the blockchain with the help of Tendermint BFT. Tendermint saves loads of work and time for the developers by combining the networking and consensus layers of the blockchain into a generic engine, thereby enabling developers to focus on app development instead of underlying protocols.
What Is $JUNO
A crucial component of the Juno ecosystem is the project's native token: $JUNO, which holds multiple use cases within the Juno network. The token is used for on-chain governance and to secure the entire network, which runs a Proof-of-Stake consensus algorithm. $JUNO is 100% community-owned and operates on smart contract platform. It's used as collateral for various smart contract functionalities and acts as a work token to capture value from the multiple DApps built on top of Juno.
As developers play a crucial role in the ecosystem, Juno's community pool has one of the most significant genesis allocations in the Cosmos ecosystem. The community pool actively supports upcoming initiatives by offering a funding kickstart.
JUNO Tokenomics
Launched in 2021, JUNO currently ranks #86 on CoinStats. It has a market capitalization of $1.2B, a current supply of 67,228,132, and a circulating supply of 40,428,168 JUNO coins, and its total/maximum supply is restricted to 73,027,881. Check the current JUNO price, 24-hour trading volume, historical statistics, etc., on CoinStats. Since its launch, JUNO has been up 158.64%, demonstrating a promising bullish trend to its investors.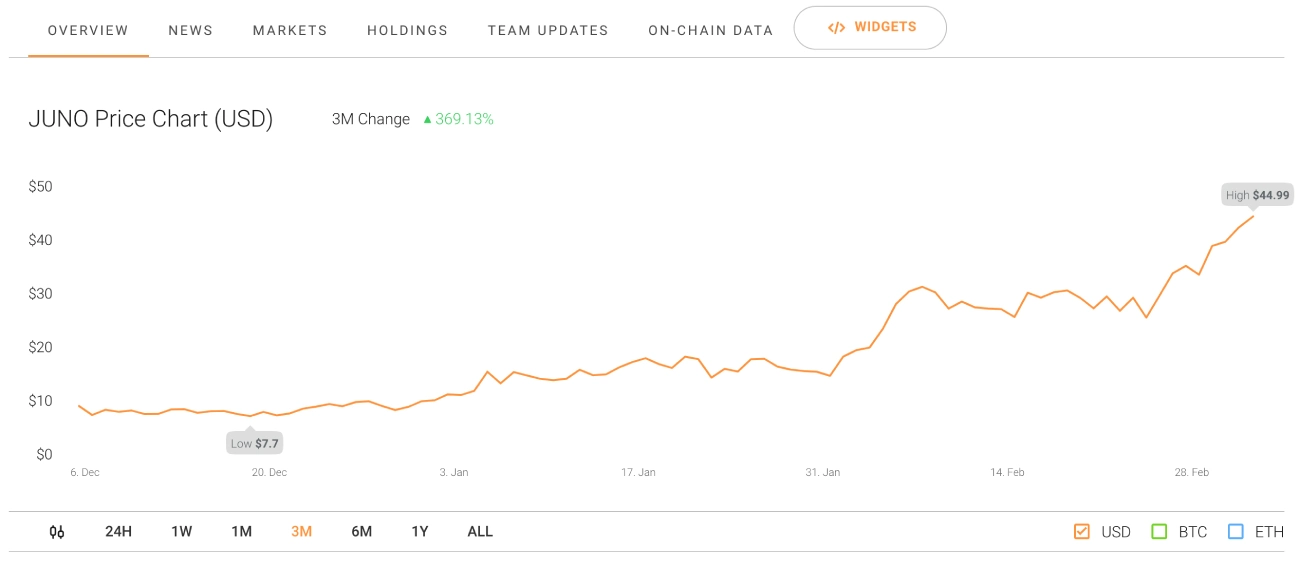 How to Buy JUNO
You can only buy JUNO on decentralized exchanges with another cryptocurrency. To buy the JUNO token, you'll need first to purchase Ethereum (ETH) or Bitcoin (BTC) and then use them to buy JUNO. In doing so, you'll need a cryptocurrency exchange that allows you to buy Bitcoin or Ethereum with a bank account or credit card. Consider popular e-wallet exchanges like Coinbase, Osmosis, or Binance for trading JUNO.
The JUNO token is not directly available on popular exchanges like Coinbase, Coinbase Wallet, or Binance. Instead, you can buy it on exchanges like Osmosis, Sifchain, and CoinStats. Here are some simple steps to guide you in purchasing the Juno network.
Step #1: Setup an Exchange Account
After you've decided on a reliable fiat-to-crypto exchange that allows you to purchase BTC or ETH, the next step is to open a trading account. Binance and Coinbase are among the most reputed, easy-to-use, and low-cost e-wallet crypto exchanges globally. The requirements differ depending on the platform you pick. Personal information such as your name, contact number,  email address, home address, social security number, and a copy of your driver's license, passport, or government-issued ID will be required in most transactions. You must provide this information to be authenticated and start trading. Next, the platform could guide you to two-factor authentication using your phone number (this step could be optional).
Step #2: Purchase BTC or ETH
As you can purchase JUNO tokens only against BTC or ETH, you need first to buy Bitcoin or ETH tokens. JUNO's most popular trading pair is JUNO/BTC; therefore, experts recommend the purchase of BTC over ETH. You simply need to purchase BTC through your Coinbase or Binance account. Firstly, select the 'Buy Crypto' tab, then search for BTC, and click on 'Buy BTC.' The platform will now take you to the payment gateway and request to add funds from your bank account or credit/debit card.
Once the transaction is complete, you need to transfer these BTC or ETH tokens to a different exchange wallet that supports Juno.
Step #3: Register on Exchanges Supporting Juno
Presently, JUNO can be traded on Osmosis, Sifchain, and CoinStats. Among these, CoinStats is the largest and the most reliable platform for trading JUNO. You need to set up an account on CoinStats, similar to setting up an account on Coinbase or Binance.
Step #4: Deposit BTC or ETH
CoinStats will prompt you to connect your Coinbase or Binance wallet to your new CoinStats account. You need to securely add your Coinbase or Binance Wallet ID to link the two crypto accounts safely.
Step #5: Buy JUNO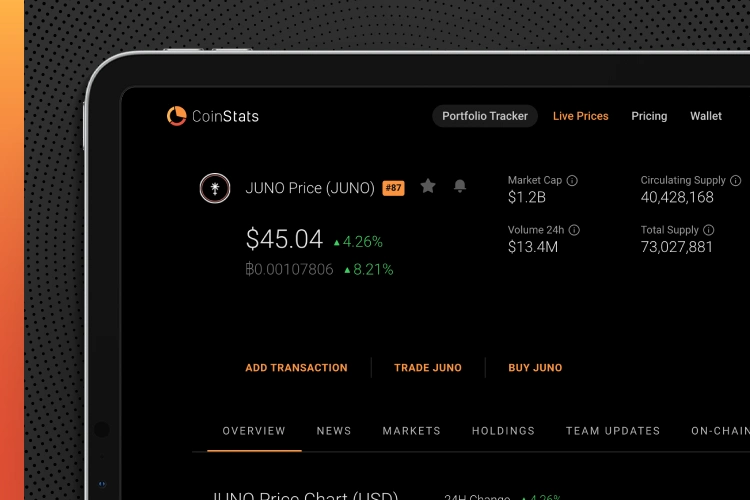 Let's view the process of purchasing JUNO on CoinStats. In the search bar, type JUNO and click on the JUNO token. You will see the current price JUNO network is trading at and place your order. CoinStats will provide you with two options in response to your query: Buy JUNO or Sell JUNO. Select Buy JUNO network from the menu and enter the number of JUNO tokens you wish to buy. To complete the transaction, you'll have to select either the JUNO/BTC or JUNO/ETH trading pair and the BTC or ETH tokens from your added wallet. Congratulations, you've purchased JUNO Network (JUNO)! It's recommended to securely store your newly purchased coins in the wallet of your choice.
How to Store JUNO
The JUNO whitepaper recommends securely storing your JUNO tokens in the Keplr wallet. Let's look into some of the secure and reliable JUNO-compatible wallets:
Keplr Wallet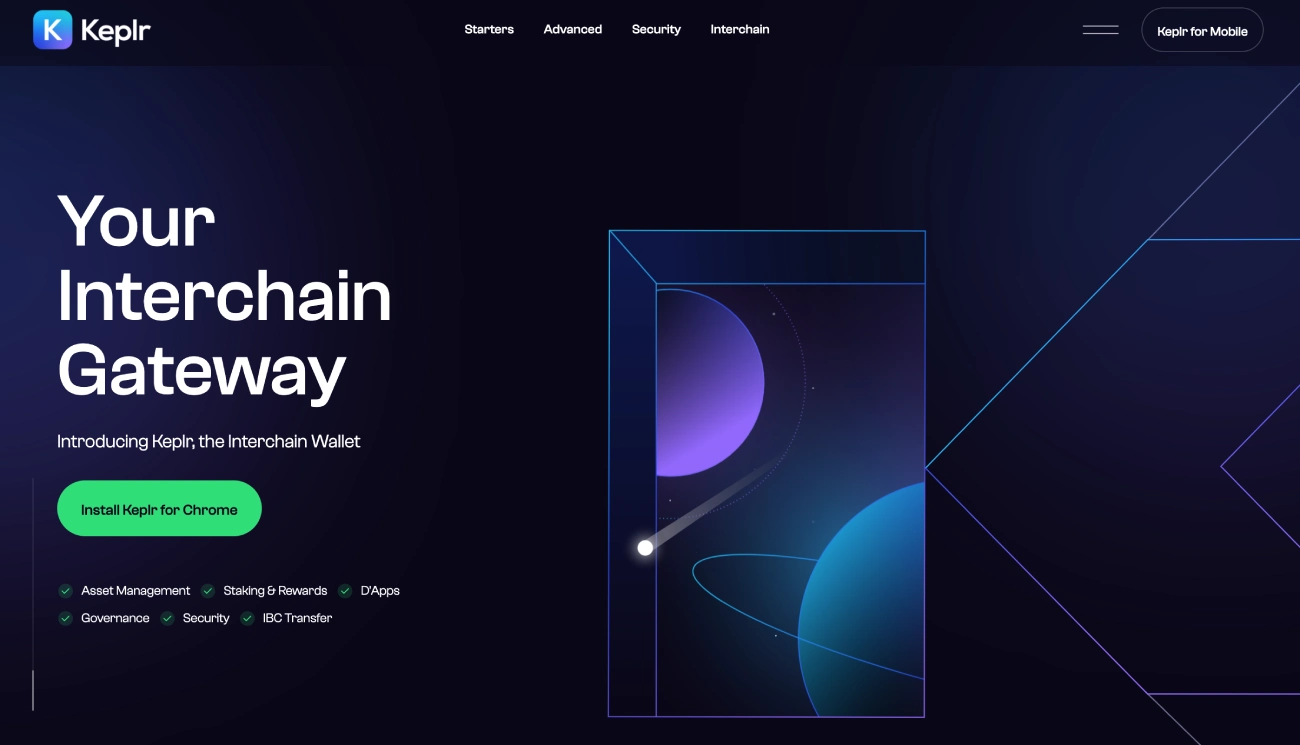 Keplr is a simple, open-source browser extension wallet developed by the Cosmos Interchain Ecosystem. It's a software wallet that encrypts and securely stores the user's private key in the computer. Keplr currently supports multiple blockchains like Cosmos Hub, CertiK, IRISnet, Osmosis, JUNO, Kava, etc. It offers several versatile functionalities, especially for all Cosmos SDK-based blockchains.
CoinStats Wallet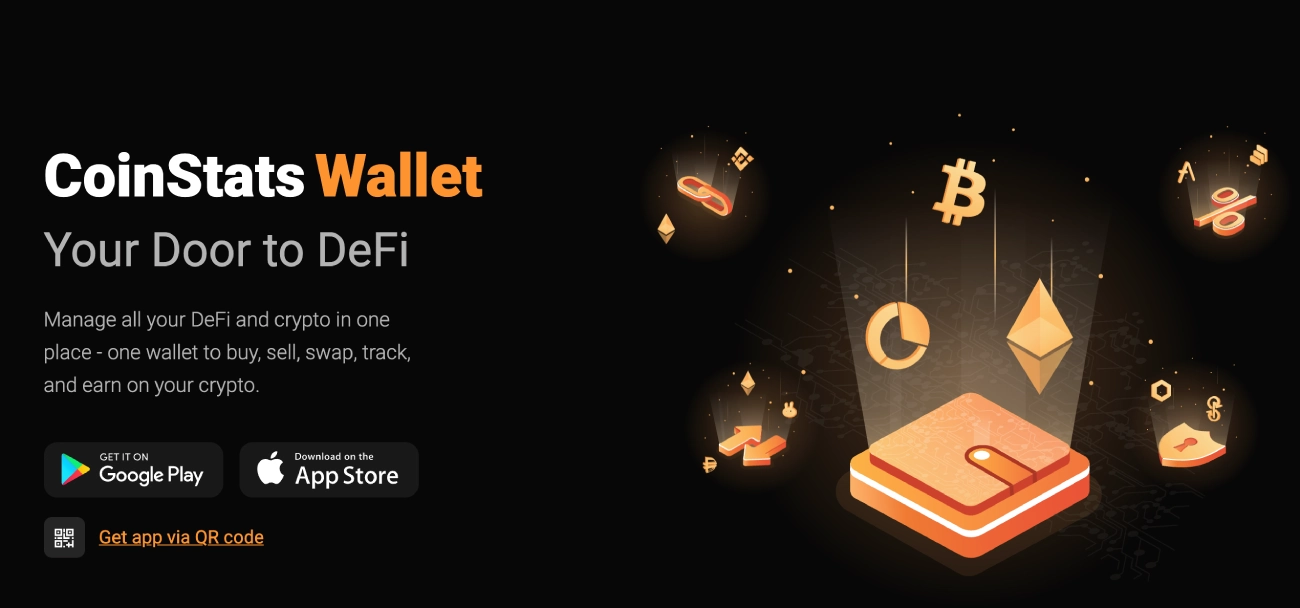 The CoinStats Wallet is a software wallet that harnesses the benefits of DeFi. It enables you to export your private keys securely, giving you absolute control over your crypto and DeFi portfolio. The CoinStats Wallet offers a single solution to trading and SWAPPING on Ethereum, Polygon, and BSC, thereby offering maximum flexibility. Moreover, it promises up to 20% APY on savings.
Conclusion
Juno is all set to revolutionize the interoperable smart contract space by supporting the development of interoperable DApps. It's a decentralized, public, permissionless network for cross-chain smart contracts. Juno is a fully community-driven project, and more than 90% of it is owned by the community, according to its website. The high scalability and low costs already serve as Juno's competitive advantage over other Smart Contract networks.
Experts seem to think the JUNO price will go up. The coin is a layer 1 blockchain project which is entirely community-driven, and so far, the coin appears to have gained traction. However, given that the project is still in its nascent stages, many unknowns regarding future performance remain.