https://static.seekingalpha.com/cdn/s3/uploads/getty_images/1078348222/image_1078348222.jpg?io=getty-c-w750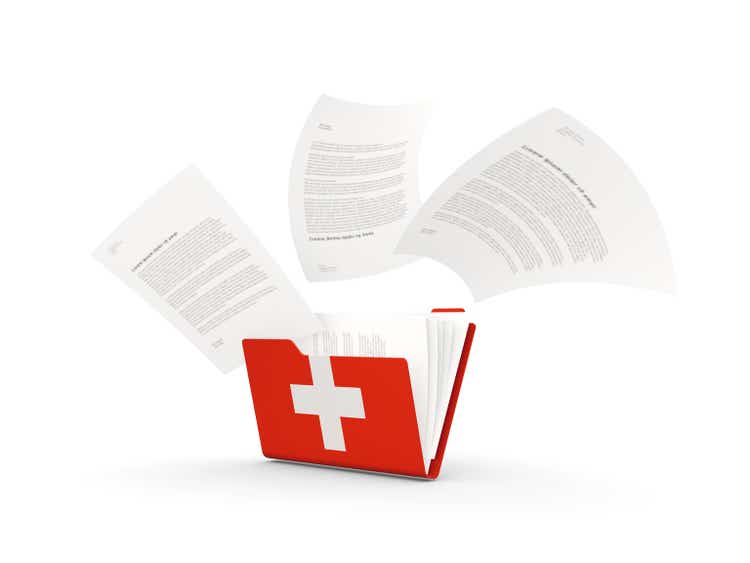 Introduction
The Adecco Group (OTCPK:AHEXF) (OTCPK:AHEXY) is one of the best known HR and recruiting firms in the world and this asset-light model has historically resulted in strong cash flows. Adecco has been using these cash flows to diversify and the recent acquisition of AKKA Technologies is one of the ways Adecco is branching out. In my previous article which was published in September, I was focusing on the company's free cash flow which was quite strong, but the stock has only gotten cheaper since.

Adecco's primary listing is in Switzerland where the group is trading with ADEN as its ticker symbol. The average daily volume of in excess of 600,000 shares confirms its Swiss listing clearly offers the most liquid trading option. Using a share price of approximately 42 CHF and the current share count of approximately 168M shares (this already includes the shares issued in the recent capital raise to help fund the new acquisition as well as the almost 2M shares issued as part of the consideration) the market capitalization is approximately 6.9B CHF (which is about 1.1B CHF lower than when I last discussed this company). Although the shares are trading in Swiss Francs [CHF], Adecco reports its financial results in EUR.
The 2021 results were very satisfying resulting in a 6% yield
I think we can be quite happy with Adecco's results although there was some margin pressure in the final quarter of the year. Although the gross profit increased by about 8% in Q4, the EBITA decreased by approximately 17% due to a 15% increase in SG&A expenses. That was slightly disappointing and the only reason why the bottom line showed a net profit and EPS higher than in Q4 2020 was because of the very low tax bill. As such, the 1.11 EUR EPS in Q4 isn't exactly a "normalized" result as it included the recognition of deferred tax assets.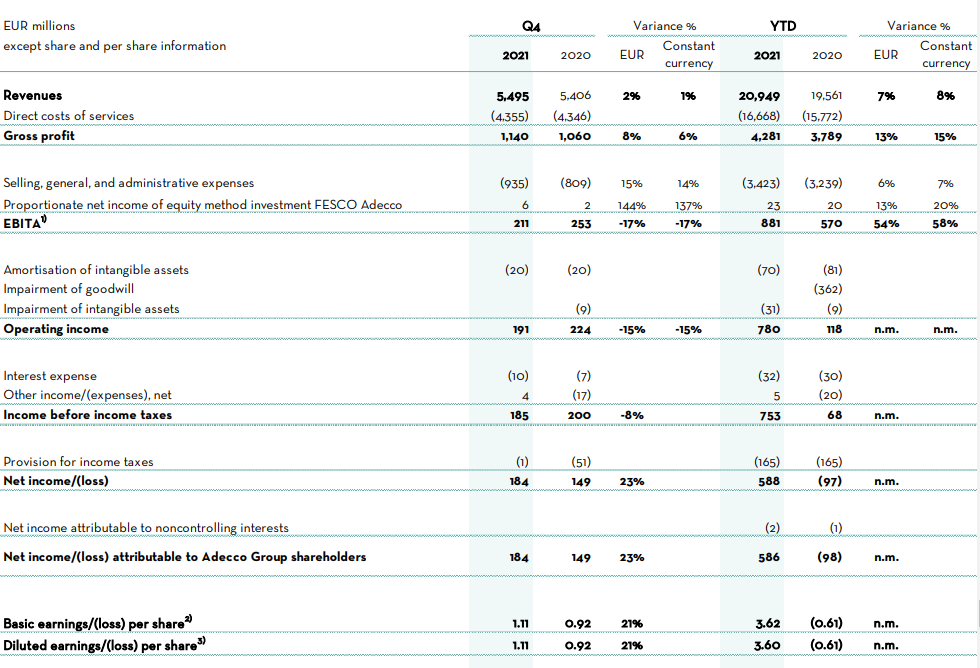 On a full-year basis, the company saw its gross profit increase by 13% and its EBITA jumped by 54% to 3.42B EUR. We shouldn't be too alarmed yet by the SG&A expenses as there should be some non-recurring expenses related to the acquisition of AKKA Technologies. This appears to be confirmed in the corporate presentation where the EBITA margin excluding one-offs was confirmed at 4.7%. Given the revenue of almost 5.5B EUR in Q4, the EBITA excluding the non-recurring elements would have been almost 260M EUR. This indeed confirms the EBITA result was under pressure from some non-recurring elements although there for sure were "normal" cost increases as well and it will be interesting to see how the company will handle this in 2022.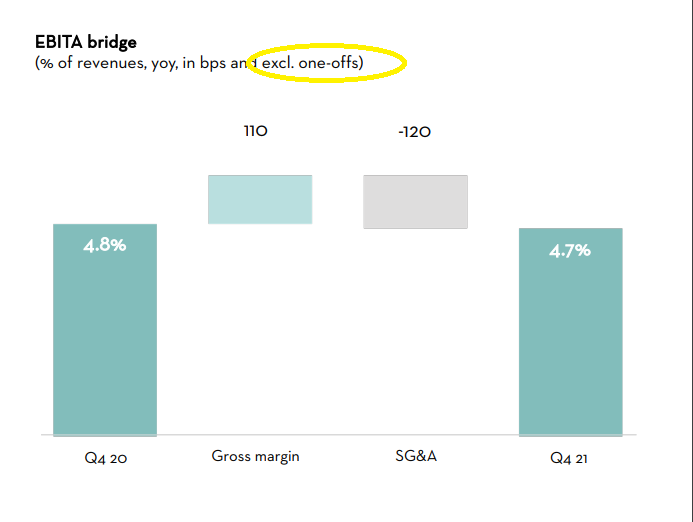 In the original article, my main focus was on Adecco's free cash flow performance. As running an HR and recruiting firm is capital-light, I expect the company to publish robust cash flow results.
In FY 2021, the total reported operating cash flow was 722M EUR but this included an 80M EUR investment in the working capital position (mainly related to accounts receivable). With a total capex of just 132M EUR, the free cash flow result was 670M EUR. Divided over 168M shares this represents 3.99 EUR per share or 4.08 CHF per share using the current EUR/CHF exchange rate of 1.023.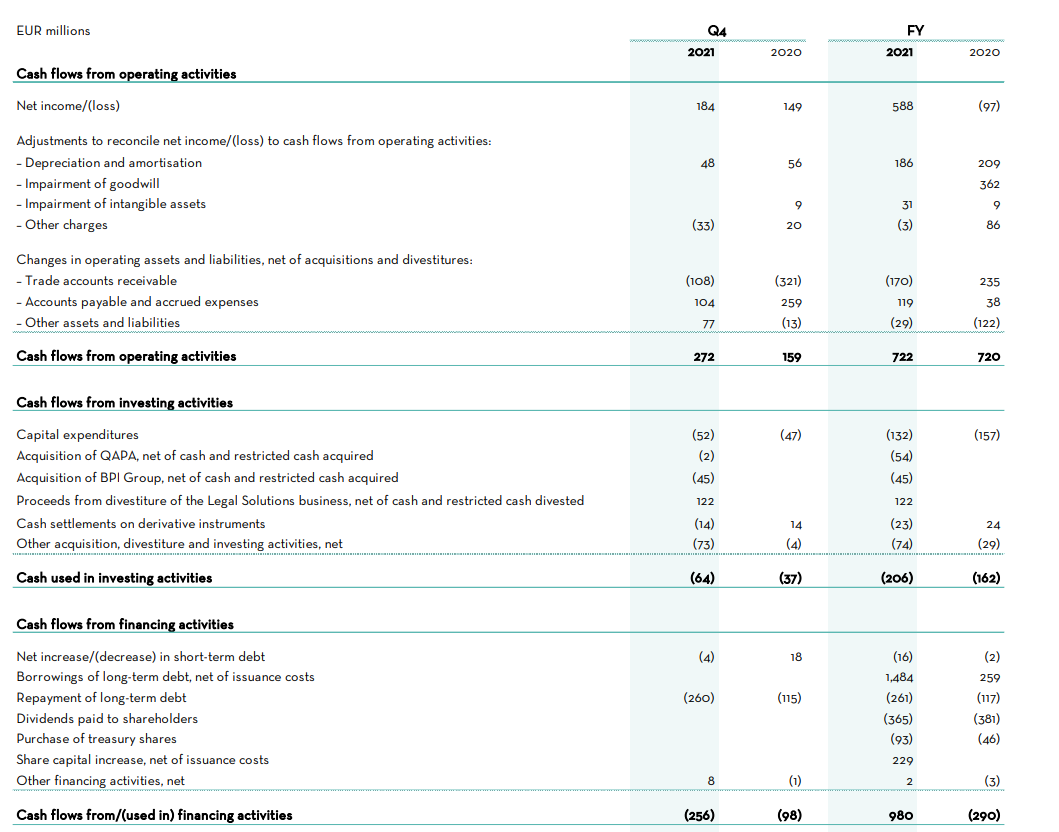 Adecco has decided to declare a dividend of 2.50 CHF per share. This dividend will be split into two equal tranches of 1.25 CHF per share of which one tranche will be a "normal" dividend (subject to the 35% Swiss Dividend Withholding tax rate), the second tranche will be paid out of free reserves and are not taxable in Switzerland).
The free cash flow will help fund the AKKA acquisition
Adecco has clearly been underperforming its peer (main competitor Randstad for instance is trading roughly at the same level it was trading at a year ago while Adecco's share price is now approximately 30% lower than where it was trading at in early March 2021.
I do think the market is a bit disappointed with Adecco's decision to acquire Akka Technologies in an offer valuing the company at 2B EUR on an enterprise value basis. The vast majority of the shares are being acquired for cash (at 49 EUR per share) but some of the largest shareholders of Akka will receive a small consideration payable in Adecco shares.
The initial step, acquiring a majority stake in AKKA, was completed last week as Adecco now owns just under 65% of the shares. This means the mandatory takeover offer for the remaining securities (at 49.00 EUR in cash) has now stated, and Adecco expects this process to be completed by the end of the current semester.
While a 2B EUR price tag appears to be quite high keep in mind AKKA is acquired at just under 11 times the anticipated EBITDA while Adecco anticipates to generate synergy benefits both on the revenue level as well as on the cost level.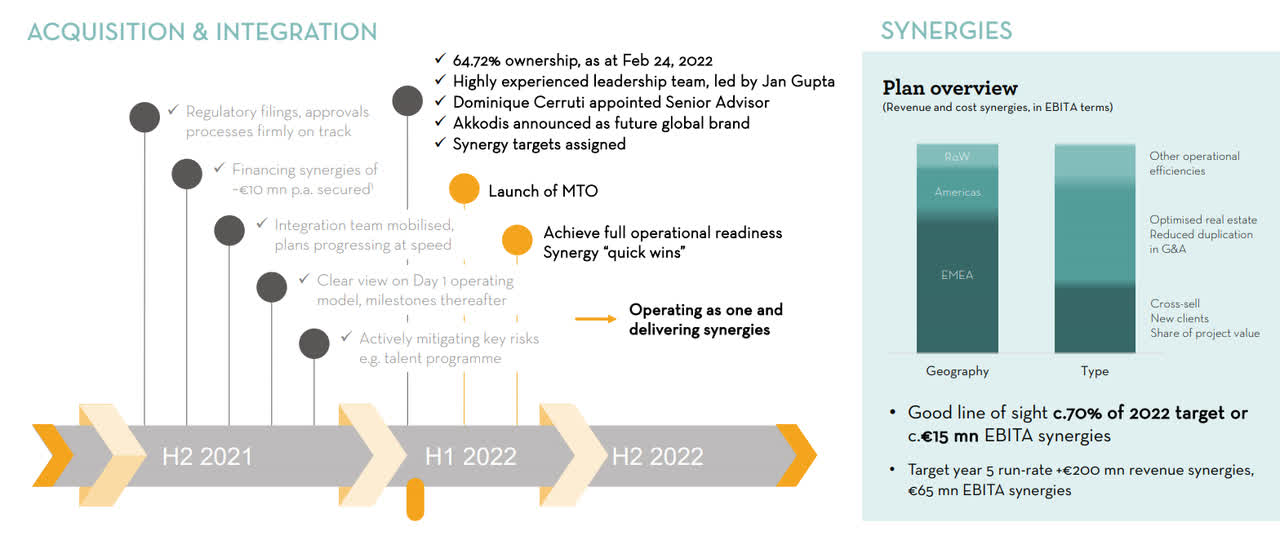 For 2022, the EBITA synergies are anticipated to be 15M EUR while this should increase to 65M EUR within the next few years. Of course these are just 'the plans' and Adecco's management still has to deliver on these plans.
Investment thesis
2021 was a good year for Adecco and although I wasn't quite sure what to think about the company's Q4 result due to a low tax bill, the non-recurring expenses would likely have mitigated the impact. Cost inflation will definitely be something to keep an eye out for, but Adecco is now almost trading at a free cash flow yield of 10%. That's mainly caused by the acquisition of AKKA and I have the impression the Adecco management will have to prove to its shareholder base the acquisition indeed is smart.
I don't have a long position in Adecco yet but the current share price is very inviting, both from a fundamentals point of view as well as from an income point of view.